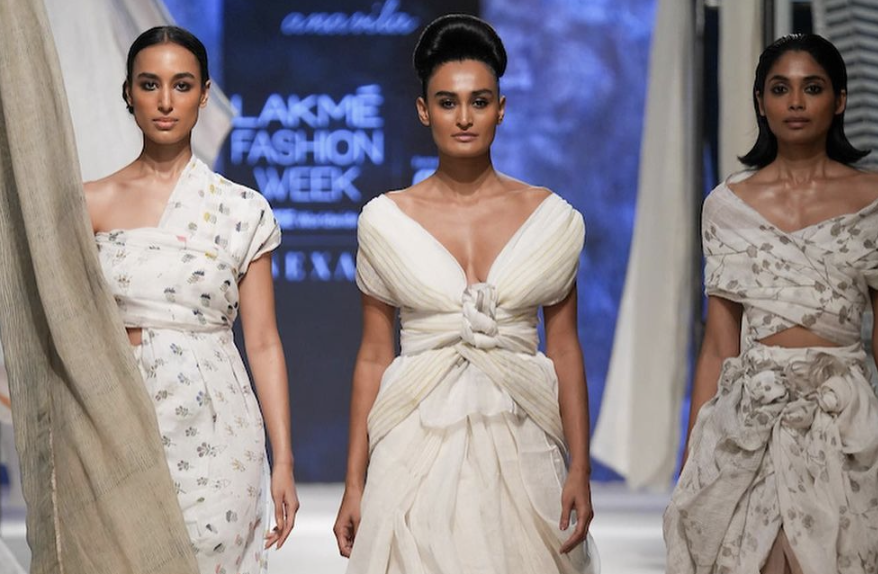 GenNext by INIFD showcased a range of brands this year, including HIRO by Hiral Jajal, KoAI by Anugrah Chandra, KOYTOY by Kunaal Khyaan, and Rudraksh Dwivedi. Among these, KOYTOY's playful prints and laid-back style looked promising. KoAI presented a collection of flowy, relaxed fits, while HIRO impressed with its vibrant hues and intriguing textures, stealing the show. Finally, Rudraksh concluded the night with a dazzling display of glitz and glamour.
INIFD Launchpad, students presented their collection that fused the concepts of "East meets West" in their designs. The show featured a seamless blend of elements from both cultures, resulting in a unique and captivating display. Showstopper Neha Dhupia stole the hearts of the audience in a stunning flowy dress as she graced the ramp.
Anavila's runway presentation showcased that a saree can be worn without the constraints of zippers, buttons or belts. The free-flowing and experimental drapes were a visual delight for the audience, offering unconventional options for those seeking a change from their usual saree drapes.
Khadi India's show featured celebrity showstoppers Rakul Preet Singh and Vijay Varma, who graced the runway in co-ordinated sets designed by Divyam Mehta, Shruti Sancheti, Suket Dhir, and CoEk. This display demonstrated the immense potential of Khadi in the world of fashion.
Lakmé Salon x Vaishali S featured textures and prints inspired by the shades of oceans and corals. The beautiful fabrics in teal and deep blues captured the essence of the marine world. Vaishali's larger-than-life designs on the runway truly impressed the audience, leaving everyone stunned.
Circular Design Challenge, brands such as Made From Waste by Kriti Tula, Chamar by Sudeep Rajbhar, and IRO IRO by Bhavya Goenka showcased their commitment to sustainability. These brands offered chic and clean looks, as well as accessories, catering to those who may not typically gravitate towards sustainable fashion.