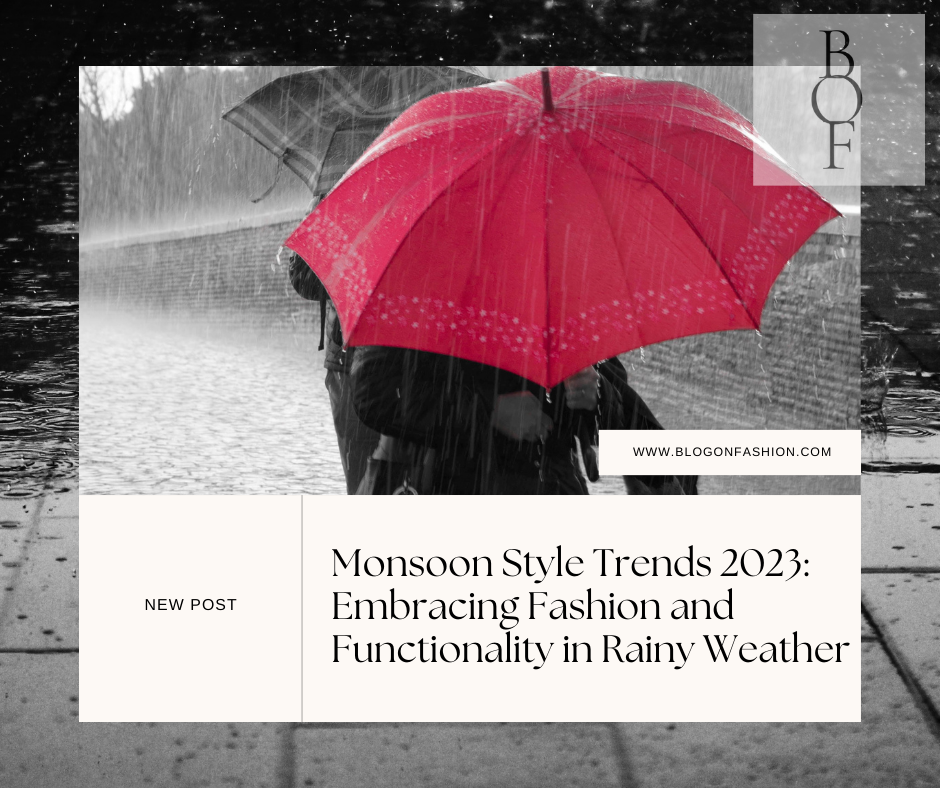 Monsoon season brings its own set of challenges, such as rain and humidity, but it also provides an opportunity to embrace unique and stylish looks. Here are some potential monsoon style trends for 2023:
Waterproof Outerwear: Invest in waterproof jackets or trench coats to stay dry during the rain. Look for lightweight and breathable materials that are also waterproof, such as nylon or coated fabrics. Opt for bright colors or fun patterns to add a pop of excitement to your rainy day outfits.
Functional Footwear: Choose footwear that can withstand wet conditions. Rain boots or waterproof sneakers are ideal for keeping your feet dry and comfortable. Look for styles that are both practical and fashionable, with trendy prints or bold colors to brighten up rainy days.
Layering with Light Fabrics: Opt for light and breathable fabrics that dry quickly. Layering becomes important during the monsoon season, as the weather can fluctuate between rain and humidity. Opt for lightweight tops, breathable blouses, and cardigans that can be easily added or removed as needed.
Playful Prints and Colours: Embrace cheerful and vibrant prints to uplift your mood on gloomy days. Opt for floral, tropical, or geometric prints that reflect the lively spirit of the season. Incorporate bright colors like yellows, pinks, and blues to add a splash of color to your outfits.
Comfortable Bottoms: Choose comfortable and quick-drying bottoms that allow for ease of movement. Opt for cropped pants, culottes, or skirts made from breathable fabrics. Consider materials like linen or cotton blends that are comfortable in humid conditions.
Accessorize with Waterproof Bags: Invest in waterproof or water-resistant bags to protect your belongings from the rain. Look for stylish options like tote bags or backpacks made from materials that repel water. Consider transparent or colorful options to add a trendy touch to your overall look.
Hair and Makeup: Opt for hairstyles that can withstand humidity, such as braids, updos, or textured waves. Keep your makeup light and waterproof, focusing on long-lasting and smudge-proof products. Use a setting spray to ensure your makeup stays intact throughout the day.
Remember, fashion is subjective, and personal style should always take precedence. These suggestions are intended to provide inspiration, but feel free to adapt and experiment with different styles and trends to create your own unique monsoon looks in 2023.