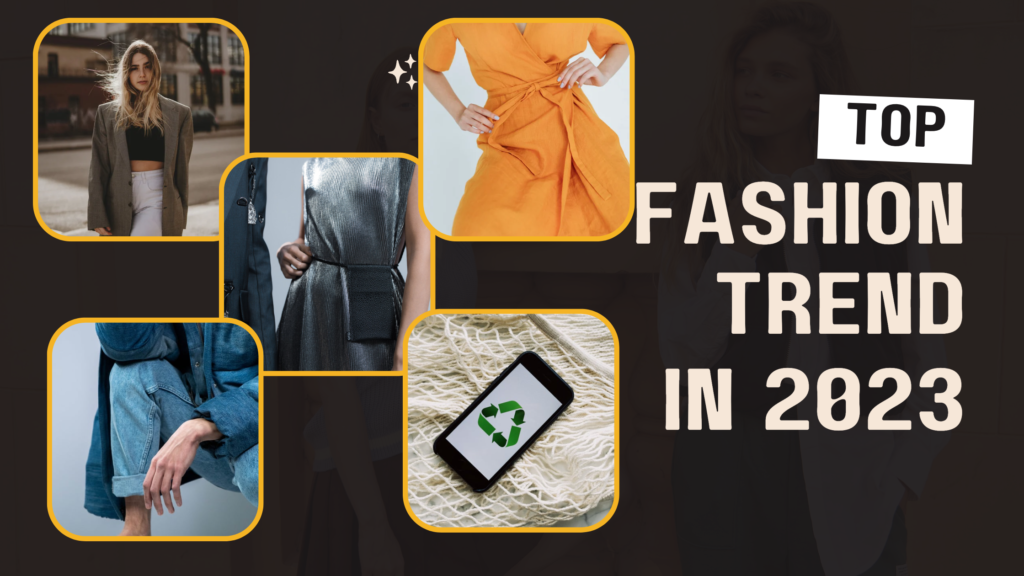 The world of fashion is constantly evolving, and fashion trends 2023 is no exception. As we look ahead to the new year, there are a variety of trends that are poised to make a big impact. From bold and bright colors to sustainable and eco-friendly and vegan styles, there is something for everyone in the fashion world of 2023. In this article, we will take a closer look at the key trends and styles that you should be on the lookout for, as well as how to incorporate them into your wardrobe. So, whether you're a fashion enthusiast or simply looking to update your look, read on to discover the must-know fashion trends of 2023.
Denim
It doesn't matter if it's denim skirts, loose-fitting jeans and jackets, or even a denim buckle bra, the fabric's adaptability is being displayed on the catwalks, offering us a sneak peek at what denim has in store for us in 2023. Large pockets and asymmetrical shapes are in style, which suggests that 2023 will bring innovation to denim and reinvent it as something fresh and new.
Rosettes
The latest trend seen at shows across all major design houses recently still features a floral motif even though flowery prints are no longer in vogue. Big, dramatic 3D rosettes are in style everywhere, whether as dress embellishments, additions to trouser belts, or as a finishing touch for suits. In 2023, sculpted elements are expected to make a comeback, with floral patterns leading the way. A rosette can be many things, including a fun accent or a loving gesture. It is a versatile style that will undoubtedly shake things up this summer.
Sunset Colours
This year, the industry came together around a number of tonal trends, but using sunset-inspired tones was the most notable. Sunset hues add a powerful, colourful element to designs, whether they are used alone, where the deep reds and golden yellows create a big statement, or as a fade, where yellows fade into reds across the garment. The sunset fade looks best on long, flowing motifs but has also been used on shirts and other garments. It is particularly effective in motion. The greatest time to see these gorgeous colours will be in the summer of 2023.
Pockets
For Spring 2023, huge pockets are returning, as demonstrated by a variety of brands, including Miu Miu, Diesel, and Fendi. We won't see a comeback of the cargo pant this year; instead, those runway silhouettes will be translated into high street trends. This new interpretation of pockets pants combines industrial styling with softer materials and hues, and it is certain to be a major trend on the high street throughout the year.
Hooded Dresses
The hooded dress, which Grace Jones popularised, made a strong comeback in runway presentations by Versace, Alberta Ferretti, Saint Laurent, and other designers. Bella Hadid is one of many celebrities that debuted the look this year on the red carpet as well as the runways, setting the trend for 2023's high street fashion. The hooded dress offers a magnificent style that is certain to be popular in spring when paired with the newest fashion development.
Fringing
Designers like Versace and Victoria Beckham are using fringe accents to provide movement to tightly cut items for added visual intrigue. These materials include lace, leather, silk, and a variety of other materials. It has also been employed by some designers to add a dash of cowboy flair to urban elegance, and in the upcoming year, it will undoubtedly be seen on a variety of products.
Silver Shimmer
Silver will be the other predominant colour of the year, along with tones of the setting sun. Shiny and striking, it has been used in both clothing and accessories. One magnificent example is the silver sequined dress by Dolce & Gabbana, which shimmered down the catwalk and demonstrated how striking the metallic effect can be. When combined with silver accents, it avoids the ostentatiousness of gold while still adding a distinctive element to any design.
Cutout Dresses
Designers have revived the gorgeous column gowns and given them a distinctly contemporary touch, fusing old Hollywood aesthetics with contemporary patterns and materials. These dresses make a striking statement that is both modern and has a nod to the grandeur and style of the '30s by utilising materials like velvet and chiffon and embellishing them with bow or drawstring embellishments. Bright reds and yellows are frequently used as dramatic colour options, although classic white and black are expected to dominate the market.
Lace
This year, many different ensembles will be adorned with translucent materials and lace accents. Designers like Dior and Versace have shown translucent fabrics layered over clothing to create a glistening look.
As a layered, translucent layer for skirts and tops as well as a trim and highlight fabric woven into patterns, lace has been utilised frequently in recent collections. Versace uses the material to bring a gothic vibe to life, with lace parts defining the shape and flow of the fabric in any garment. Additionally, some designers are exploiting its delicate nature to provide strong designs a tactile, contrasted appearance.
Blazer
The Blazers have been popular for a while and are not new to 2023. In contrast to the solid and frequently vivid colours shown in 2022 and 2021, anticipate to see a larger variety of prints in the future. The look is still typically oversized and frequently worn over a crop top or bra top. It looks good when worn with miniskirts or large pants as well.
Sheer
This year, sultry ensembles adorned with translucent and sheer fabrics are hugely popular, but with a very ultra-feminine twist. Designers like Dior and Prada have shown translucent fabrics layered over clothing to create a glistening look. Play with materials for a multifaceted aesthetic to lend a romantic and feminine attractiveness. For a carefree and effortless '90s look, pair these see-through prints with a basic white singlet and add a bomber jacket for an added cool touch.
Bow
Bows, like florals, are a perennial favourite during the warmer months because of their femininity and naturally romantic vibe, which makes them perfect for special event attire. Scaled-up neckbows, refined decoration techniques, and abstract silhouettes that were changed into shoulder strap accents for a daring but elegant finish were all interpreted in silks, tulles, and cotton.
In conclusion, 2023 is shaping up to be an exciting year for fashion, with a wide range of trends and styles to explore. From bold colours and statement pieces to sustainable and eco-friendly and vegan options , there is something for every fashion lover. Whether you're looking to make a statement or simply update your look, these trends offer plenty of inspiration. As you continue to follow the latest fashion news and trends, remember that what's most important is to find styles and garments that make you feel confident and comfortable. Stay true to your personal style while incorporating the latest trends and you'll be sure to stand out in 2023.