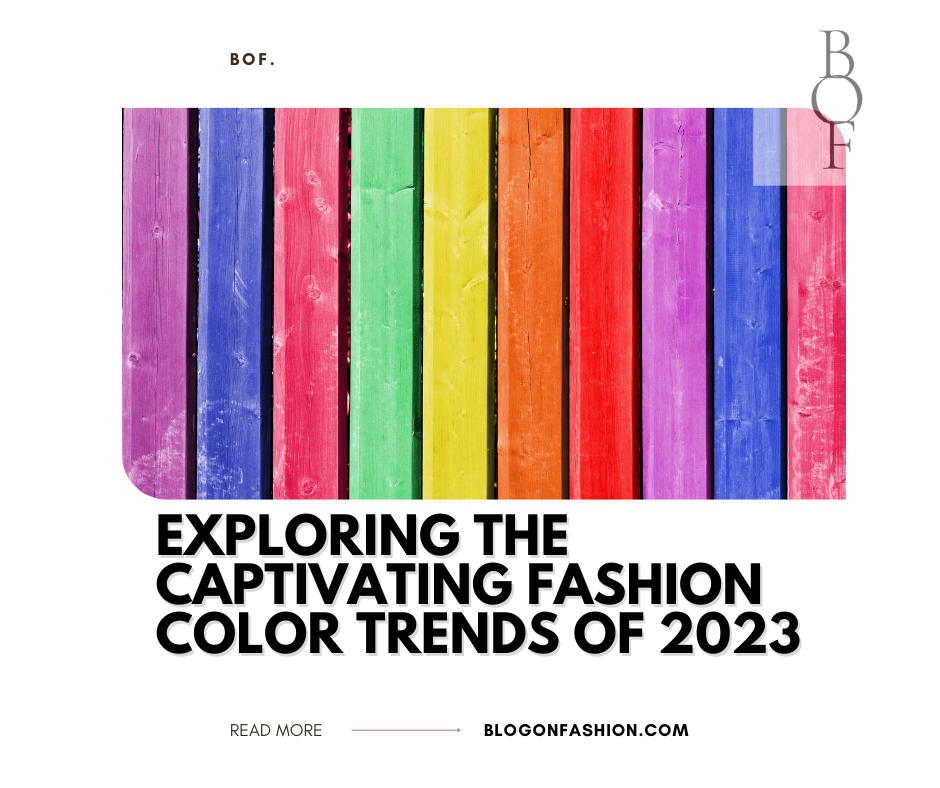 Fashion color trends for 2023 are set to bring a refreshing and vibrant palette to the runway and everyday wardrobes. Designers are embracing a mix of bold hues, soft pastels, and earthy tones to create captivating and versatile collections. Here are some of the key color trends that will dominate the fashion scene in 2023:
Vibrant Citrus: Bright and energizing citrus shades like tangerine, lemon yellow, and zesty lime will make a bold statement in 2023. These vibrant hues add a pop of color to any outfit and evoke a sense of optimism and playfulness.
Romantic Pastels: Soft, dreamy pastel shades continue to be popular in 2023. Expect to see delicate pinks, lavender, baby blue, and mint green adorning dresses, blouses, and accessories. These soothing hues create a feminine and romantic look, perfect for spring and summer.
Earthy Neutrals: Earth tones are making a comeback, reflecting a desire for grounding and connection to nature. Warm browns, dusty terracotta, olive green, and sandy beige are among the earthy neutrals that will dominate the fashion scene in 2023. These versatile colors provide a rich and sophisticated base for creating both casual and elevated looks.
Moody Blues: Deep and mysterious blues are set to make a statement in 2023. Indigo, navy, and midnight blue hues bring depth and sophistication to any outfit. Whether it's a tailored suit, a flowing gown, or a cozy knit, these shades of blue add a touch of elegance and intrigue.
Metallic Accents: Metallics continue to shine in 2023, adding a touch of glamour and futuristic appeal to fashion. Silver, gold, and bronze tones are used as accents, appearing in embellishments, accessories, and statement pieces. These metallic touches elevate any ensemble, making it stand out from the crowd.
Playful Pastels: Alongside the romantic pastels, playful and vibrant versions of these soft hues will also be in vogue. Think bubblegum pink, electric blue, and sunny yellow. These lively pastel shades bring a sense of fun and youthful energy to outfits, perfect for making a statement.
Rich Jewel Tones: Deep, luxurious jewel tones add a sense of opulence and drama to the fashion scene in 2023. Emerald green, ruby red, sapphire blue, and amethyst purple create a regal and sophisticated look. These rich hues are perfect for evening wear or adding a touch of glamour to everyday outfits.
In conclusion, the fashion color trends for 2023 offer a diverse and exciting range of hues to suit different styles and moods. From vibrant citrus shades and romantic pastels to earthy neutrals and moody blues, there's a color palette for everyone to embrace and experiment with. Whether you prefer bold and daring or soft and soothing colors, 2023 is set to be a year of fashion filled with captivating and versatile shades.