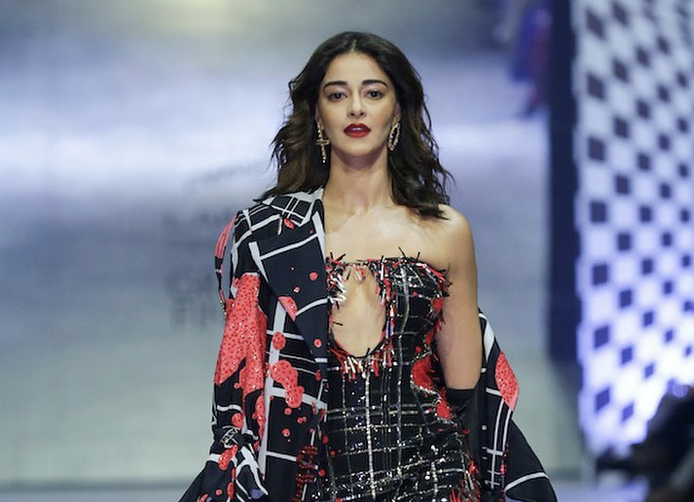 Rina Dhaka & Saisha Inspired by nature, Rina Dhaka's "Dark Romanticism" collection features a mysterious vibe through a color palette of dark gothic shades. The designs showcase modern usage of peplum in tailored jackets, fitted basques, long and circle skirts. Similarly, Saisha's "Intertwined" collection is inspired by the wood carving in Kashmir, reflected in the beautiful gowns' color palette that draws inspiration from the region's landscape.
Siddhartha Tytler Drawing inspiration from the fashion of the 80s, Siddharth Tytler's "2085" collection reimagines athleisure as athluxury. The collection features a range of fabrics, including neoprene mesh, spandex, lycra tusser, tulle, and wool, while the color palette is a nostalgic nod to the 80s, with striking neons and black hues. The showstopper for the event was none other than Ishaan Khattar, perfectly matching the hip vibe of the collection.
Dhruv Vaish, Sahil Aneja Dhruv Vaish's "Magic Shop" collection is inspired by the magical atmosphere of a room filled with sunlight shining through stained glass windows and reflecting off crystals, bookshelves covered in stardust, and a pretty spiral staircase that sets the mood. Meanwhile, Sahil Aneja's collection celebrates individuality and draws inspiration from the vibrant frequencies of celestial bodies. Each ensemble in the collection is a unique piece of art, featuring abstract and bright prints on dark neutral backgrounds that reflect the alienated bodies of the universe. The silhouettes are detailed with bespoke tailored suits featuring smart cuts, inspired by brutalism.
Nirmooha & Ranna Gill Nirmooha's "Matrix" collection showcased the geometric exuberance of the art deco movement through a linear symphony. The collection featured rich shades of emerald, ruby, amethyst, jade, and others, with signature prints blending diffused abstract patterns with linear graphics. Tamannah Bhatia was the showstopper for this show. Meanwhile, Ranna Gill's "Casa dei Fiori" collection featured prints inspired by blooming landscapes, with breezy maxi dresses, chic matching sets, extravagant ballgown skirts, and sequin gowns that became everyone's wishlist. Karishma Kapoor walked the ramp as the showstopper, dazzling in these prints.
Unapologetically MÉ X Diffuse by Manish Malhotra Manish Malhotra was the designer for the grand finale show of the Lakmé Fashion Week x FDCI, and his "Unapologetically MÉ X Diffuse" collection completely redefined fashion rules with its androgynous styles. The collection aimed to encourage individuals to be unapologetically themselves. Aditya Roy Kapoor and Ananya Pandey walked the ramp as showstoppers, both looking suave in their outfits and adding sizzle to the runway.