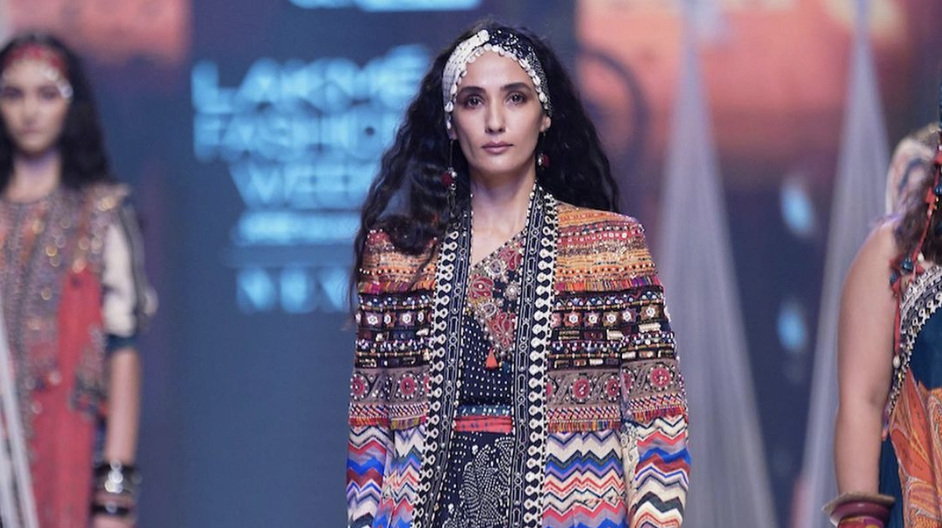 Aseem Kapoor's AMBI collection is a tattered nostalgia of a vintage Kanni jamevaar spliced with Byzantium jewels and aged metal yarn. The artworks are hand painted and then digitized to be printed on natural crepes and mushroom twills enhanced with print appliqués and splicing of print collage with vintage zardozi marori work in fine antique zari and coloured gemstones beadwork. The silhouette is inspired by Indian Sadhus- the ease with which the things are layered and expressed.
Somya Goyal's collection 'New Light' is created through reimagining, peering in, discovering, and expressing. The colors in this collection are looked at through a psychological lens to deliver more than just aesthetics and visual beauty. Each garment is thoughtfully designed by using vegan fabrics, peace silks, cupro, and a few interesting blends.
They have used recycled PVC to make interesting surfaces and introduced upcycled cords carefully crafted from the leftovers of their previous collections.
Inspired by the emotion of longing for home and finding meaning, Stoique's collection 'Rising' attempts at embracing culture, people, and the simple things.
Featuring light, breathable and natural fabrics, this collection uses Cotton Matty, Viscose Lycra & Khadi Cotton. Handprints & dyes, appliqués, quilts, and using vibrant colors our collection marries blues with greys, beige with white, monotones, and stark contrasts with stripes and bold shapes.
Created in relaxed silhouettes to infuse simplicity, comfort, and poise to their striking prints that they call Tilart works, Til's collection 'Khwab' comprises of versatile seasonless pieces that take you from 'any other normal day to a celebration'.
Fabrics that are responsibly sourced, Prints hand-painted and then digitized, embroidery intricately hand-done to add an extra dimension, Khwab is a dream project that they have manifested into a reality.
Re- is a constant exploration in the recycling of textile waste. With this collection, the label offers its first line of ceremonial clothing. Handwoven, recycled textile yarns, plant-dyed using temple flower waste, and hand sewed to craft nostalgic yet future positive, luxurious pieces for the discerning, earth-conscious bride.
Inspired by silhouettes traditionally found in ancient cultures, sacred geometry, colors and shapes worn by nature, and traditional crafts and hand skills, these garments were created to be reminiscent of history yet still very wearable in our modern era.