You've come to the right place if you're looking for both traditional and contemporary Navratri attire. For you, we gathered some stunning Navratri attire with unique styles and nine significant colours. Let's look for it!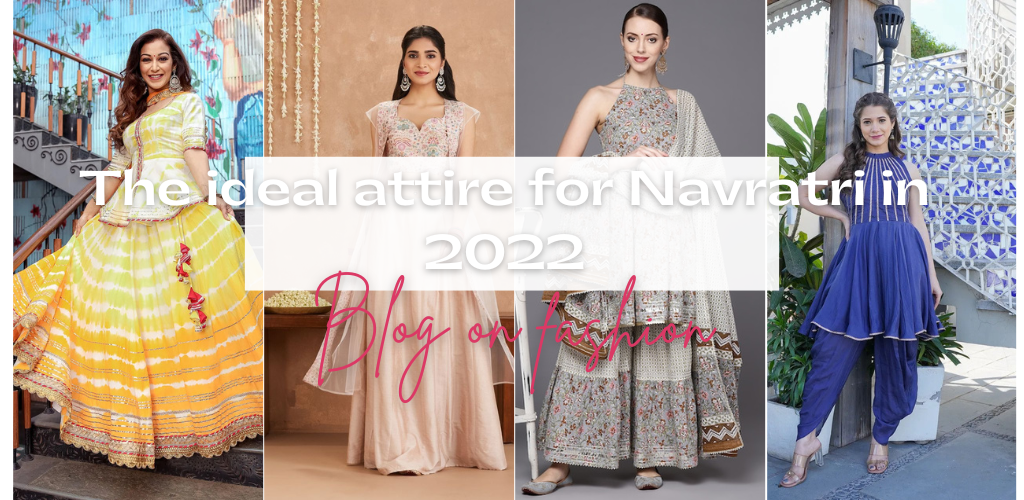 It's now time to switch out your drab chaniya cholis and denim shirts for some colourful garba attire in honour of Navratri. With its rich tradition and exquisite rituals, Navratri is a time of celebration and union. Nine beautiful days of dancing, joy, and colour, along with delectable food, upbeat music, and amazingly exquisite Navratri traditional dress is exactly the time to dress up and look gorgeous.
According to legend, in order to win the goddess Durga's favour, women who worship her on a daily basis must wear a special navratri dress of a particular colour. A specific colour and set of rituals are connected to each of the nine days of this festival honouring Goddess Durga and her incarnations.
Day 1:
On the first day of the nine-day Navaratri festival, Goddess Shailputri, the first manifestation of Goddess Durga, is honoured. It is said that Goddess Shailputri has a fondness for white. Wearing the colour white on this day is therefore regarded as lucky.
Day 2:
On the second day of Navratri, Goddess Brahmacharini, the second manifestation of Durga, is honoured. Her favourite colour is red, so it seems appropriate to use it to commemorate this day. On this day during Navratri, you should wear red if you want all of your wishes to come true.
Day 3:
Devotees honour Goddess Chandraghanta, the third incarnation of Durga, on the third day of Navaratri. On this day, the goddess bestows favours upon those wearing royal blue attire because she is pleased to see them.
Day 4:
Goddess Kushmanda is worshipped on the fourth day of Navratri. According to legend, worshipers should dress in yellow on this day because it represents brightness, knowledge, and tranquilly. Her name translates as warm energy + cosmic egg, and it is believed that she created the world with her smile.
Day 5:
On the fifth day of Navaratri, people worship the goddess Skandmata. When worshipping Goddess Skandamata one should dress in green because it symbolises life and is appropriate.
Day 6:
Flowers usually red are offered to the Goddess Katyayani on the sixth day of Chaitra Navratri, and many devotees favour donning grey on this day. People should therefore worship the goddess on this day while dressed in grey and ask for blessings.
Day 7:
The seventh day of Navratri is dedicated to Goddess Kalratri by devotees. Worshippers frequently wear orange on Goddess Kalratri because it is considered auspicious to do so.
Day 8:
During Navratri, Ashtami is a significant day. On this day, people worship Goddess Mahagauri, Goddess Durga's eighth incarnation. As a symbol of hope, self-improvement, and social advancement, devotees are advised to dress in peacock green while attending occassions.
Day 9:
Goddess Siddhidatri, the ninth incarnation of Durga, is worshipped on the ninth day of Navratri. The veneration of Siddhidatri, the daughter of all siddhis, is significant in its own right. On this day, wearing pink clothing is regarded as lucky.
Our other suggestions :
Ajio Exclusive store : Click here
Myntra Exclusive store: Click here
Nykaa Fashion Exclusive store : Click here
Amazon Exclusive store : Click here